Pork loin is coated in a garlic-herb paste, roasted to tender perfection, and served with the most luscious gravy. This Pork Loin Roast with Gravy is a special meal that's worthy of a holiday menu.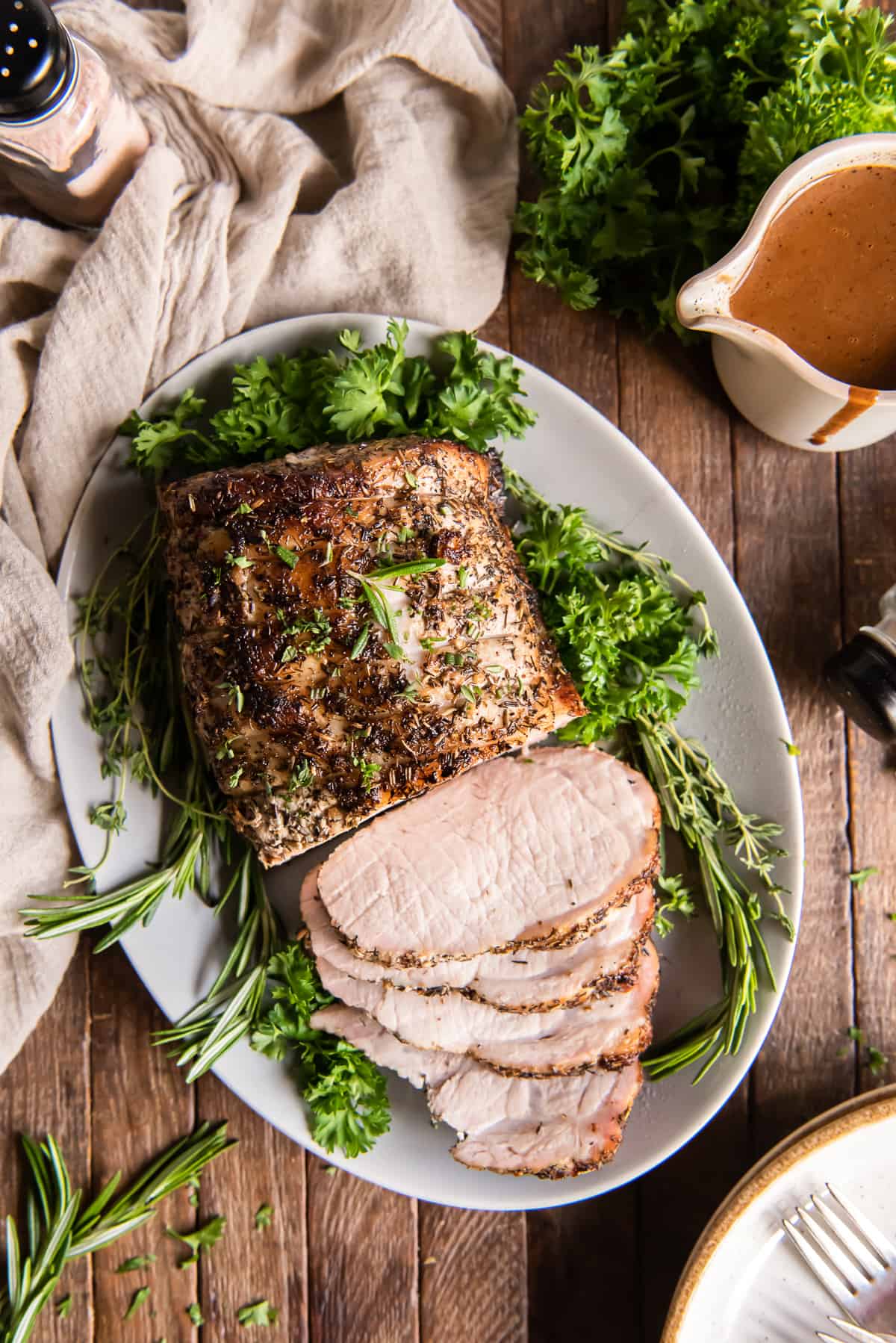 I'm very excited about this recipe, friends. Not only is it utterly delicious, it's a holiday-worthy recipe that is a more economical choice than beef, ham or turkey. But, money aside, it is unbelievably good. Like, call your best friend and give them this recipe and they'll love ya forever! That kind of good.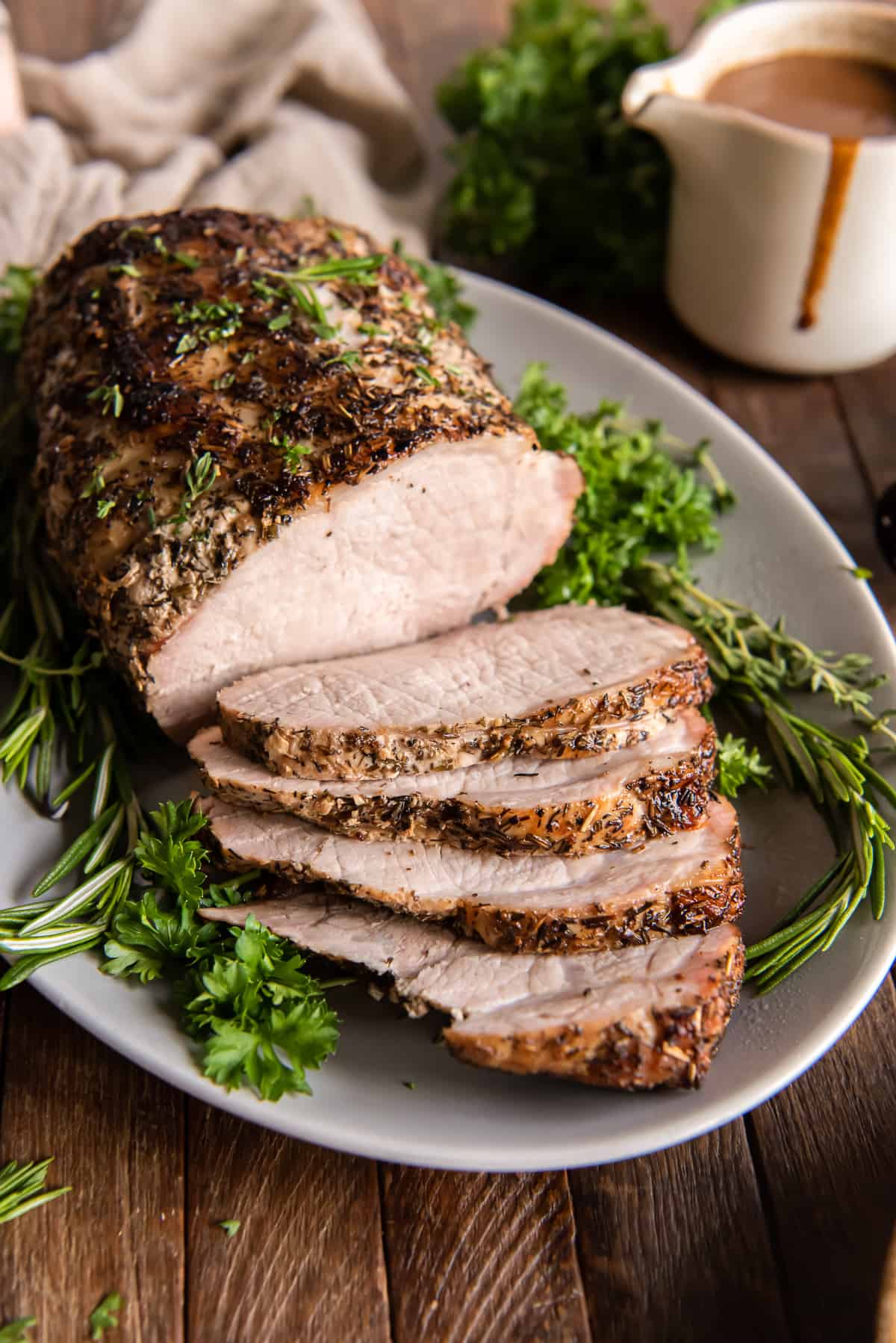 If you've never cooked a pork roast, I'm here to hold your hand and walk you through the process. It's a very lean cut with some special needs. But, I'm betting you'll discover a new favorite special occasion meal with this recipe.
Ingredient Notes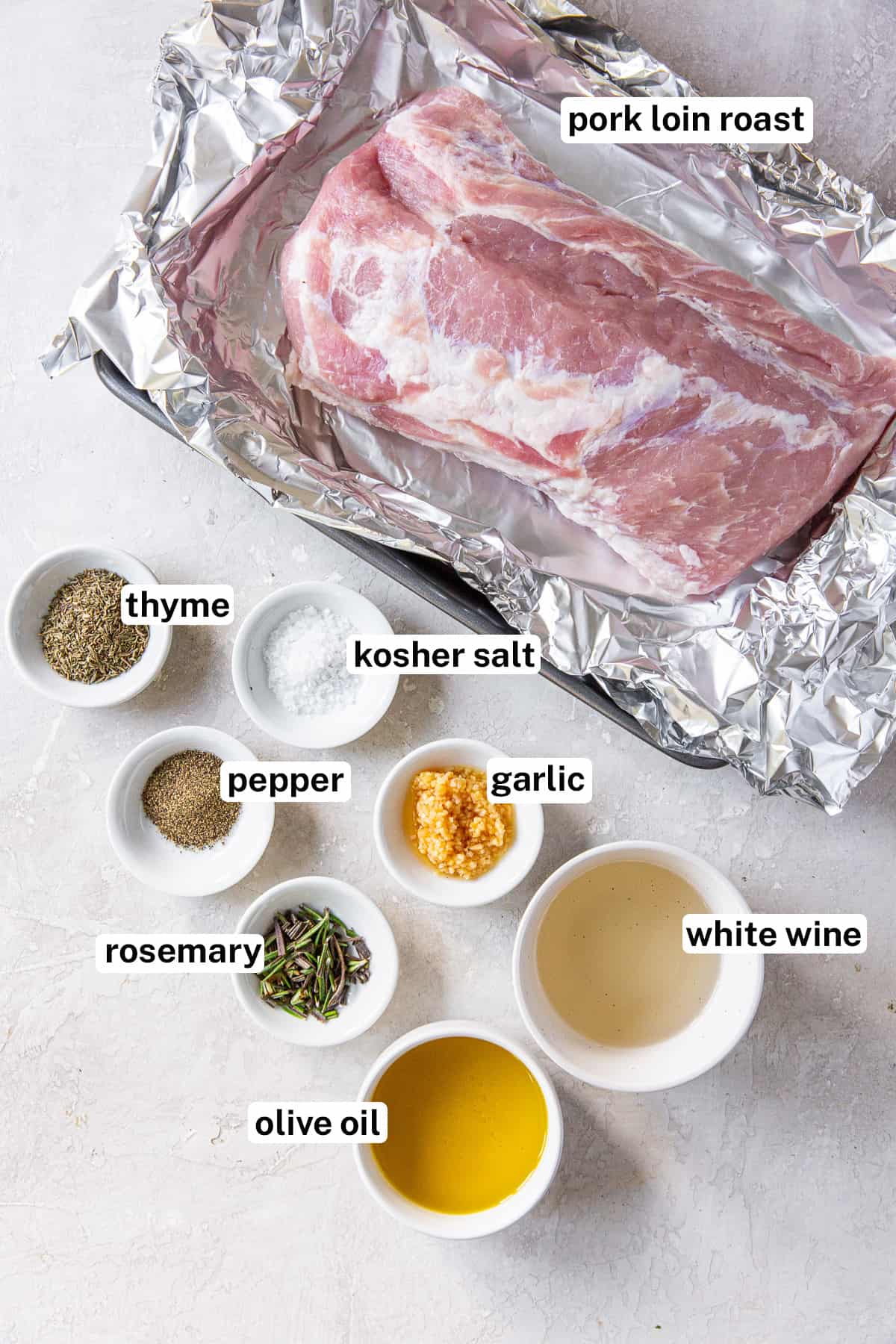 For the Pork Loin Roast
Boneless pork loin roast – You'll need a 3 ½ to 4 pound boneless pork loin roast, not to be confused with a pork tenderloin. See more details on the difference below.
Extra virgin olive oil
Minced garlic
Herbs – Rosemary and thyme. Dried herbs work great for this but if use fresh herbs, I recommend doubling the amount.
Kosher salt – Coarse kosher salt is the best choice for this recipe. It does a better job of tenderizing the surface of the pork and creating a nice garlic and herb crust than fine ground salt.
Freshly ground black pepper
White wine – You want a crisp, dry white wine. My favorites are sauvignon blanc, pinot gris or pinot grigio. The bonus is once the bottle is open, you've got the perfect wine to serve with dinner.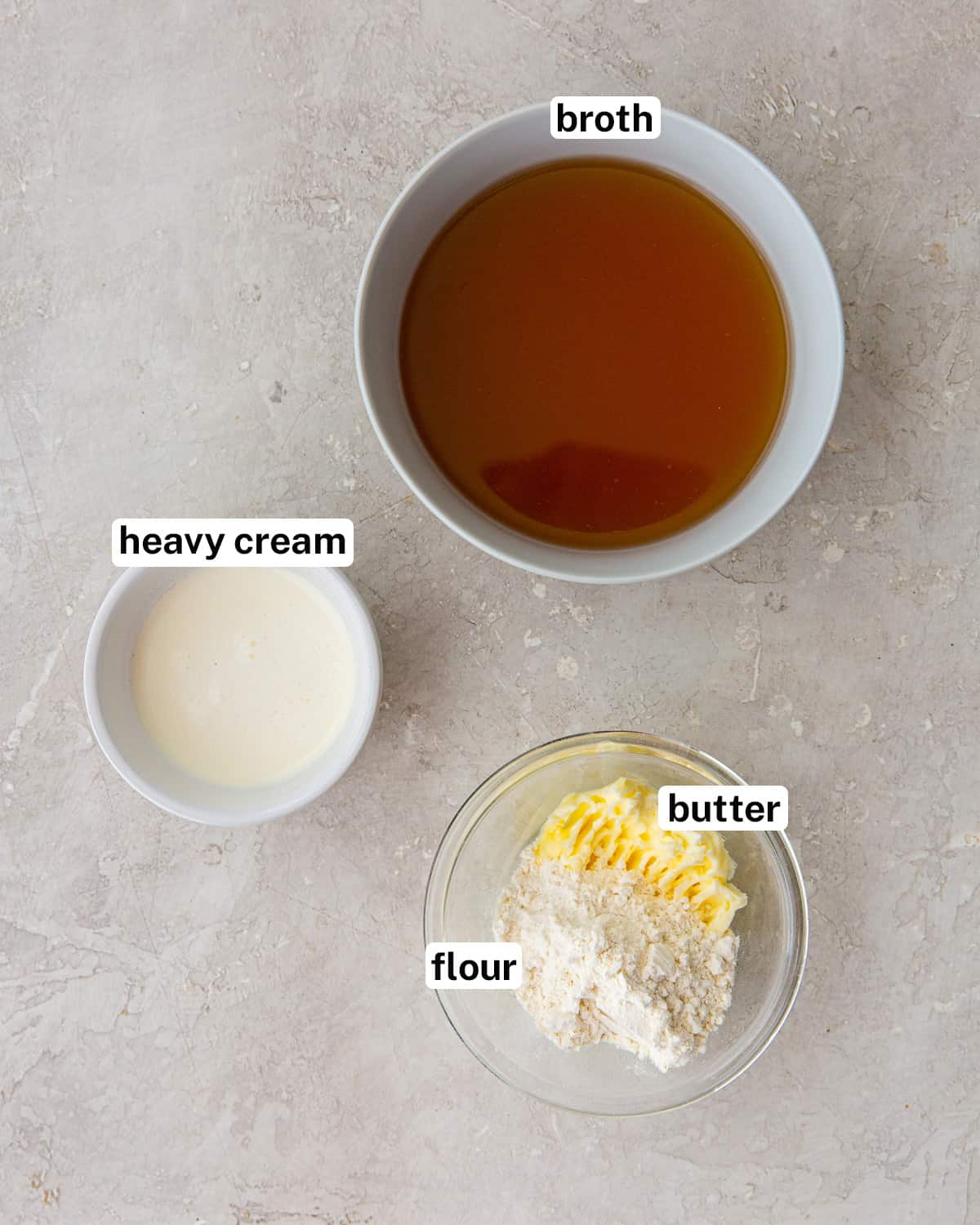 For the Pork Loin Roast Gravy
Softened butter – I always seem to forget to allow my butter to soften before cooking any recipe. If you're like me, just microwave it on the "defrost" setting, or 30% power, in 5 second increments until you can press your finger into the side and it leaves an impression.
All-purpose flour
Low sodium broth – Beef broth will result in a richer, beefier gravy and chicken broth will yield a gravy slightly lighter in color. It's wonderful with either.
Heavy cream – Just a little cream adds the most luscious layer of richness to the gravy.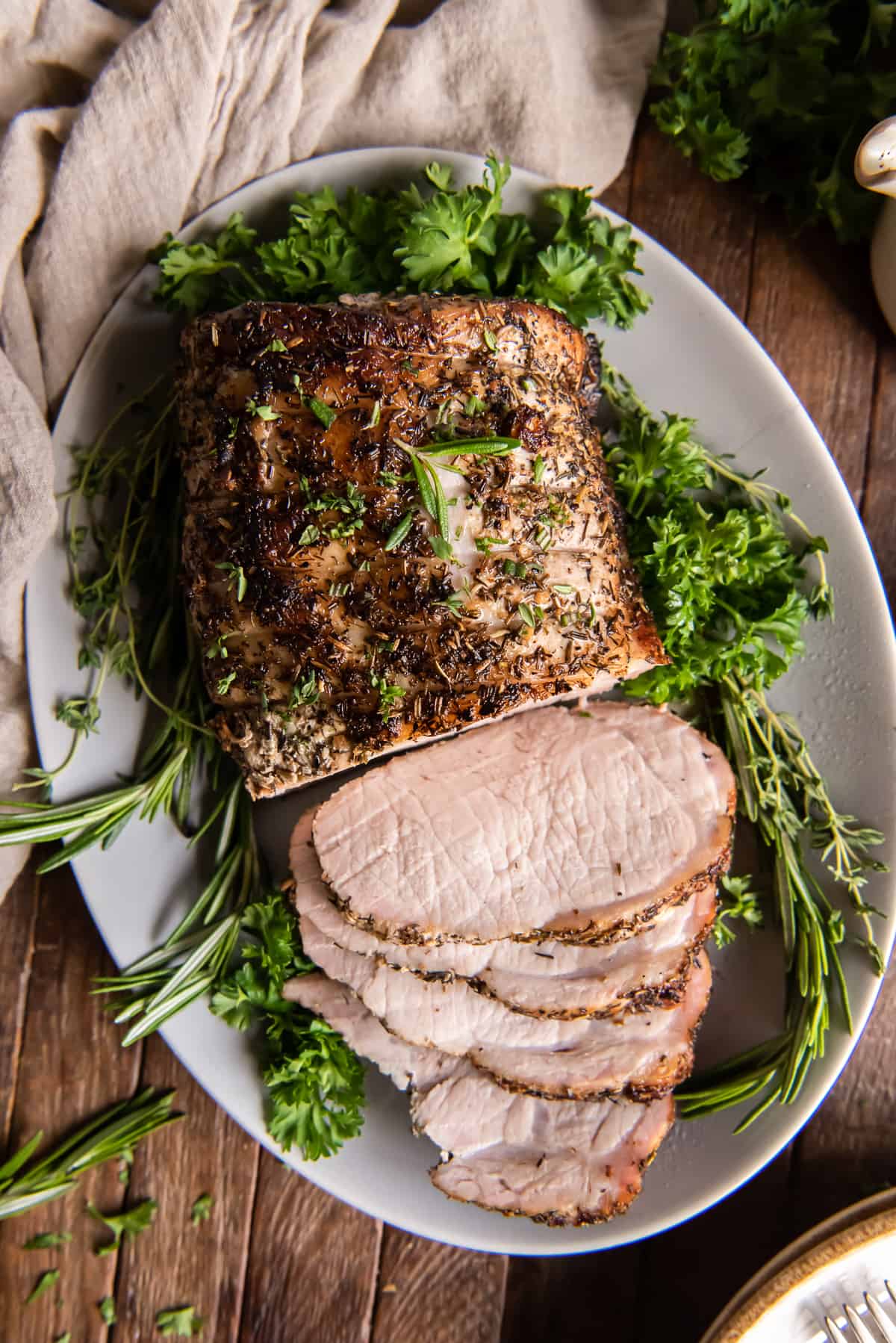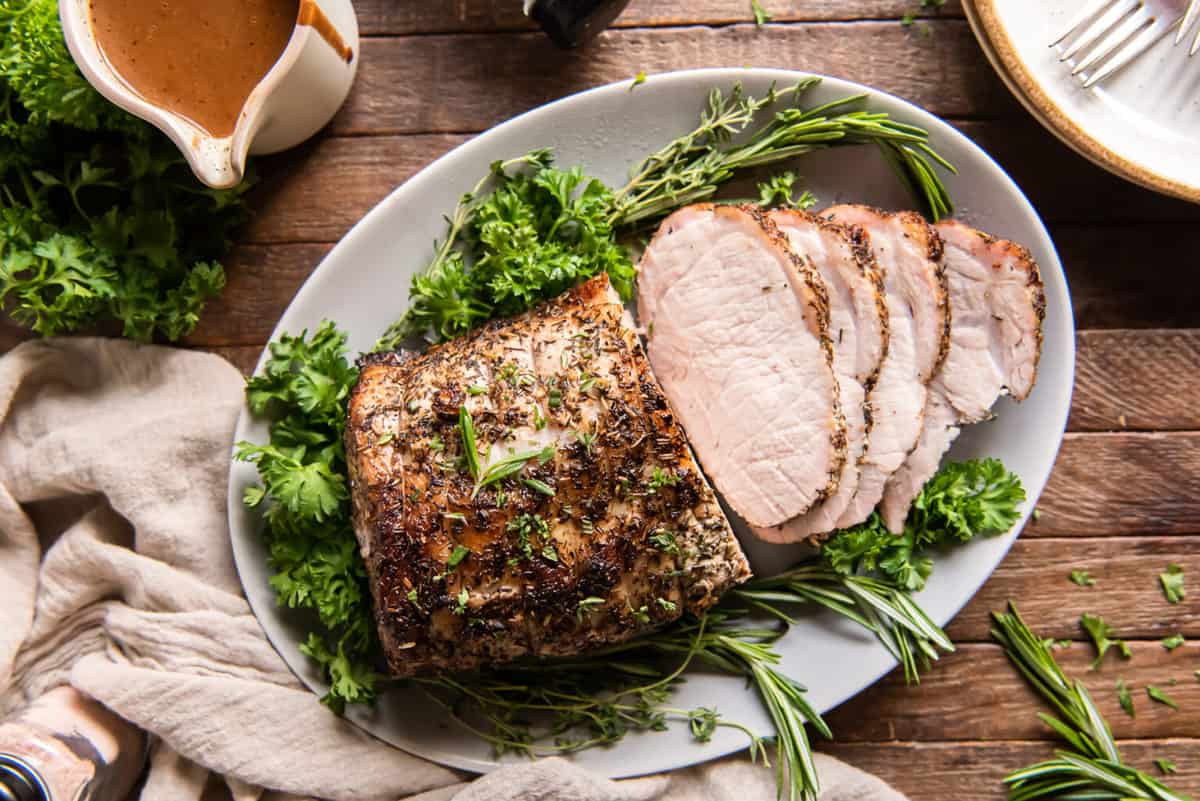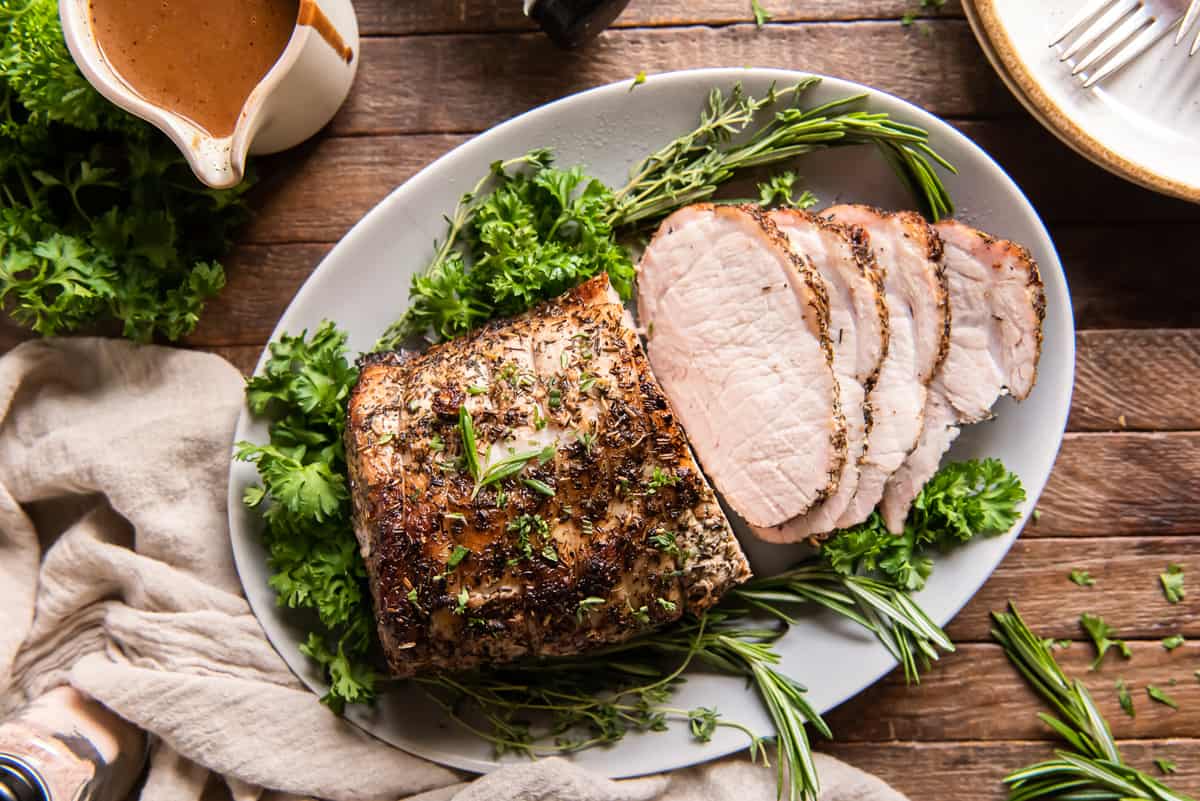 How to Make Pork Loin Roast with Gravy
Marinate the Pork Loin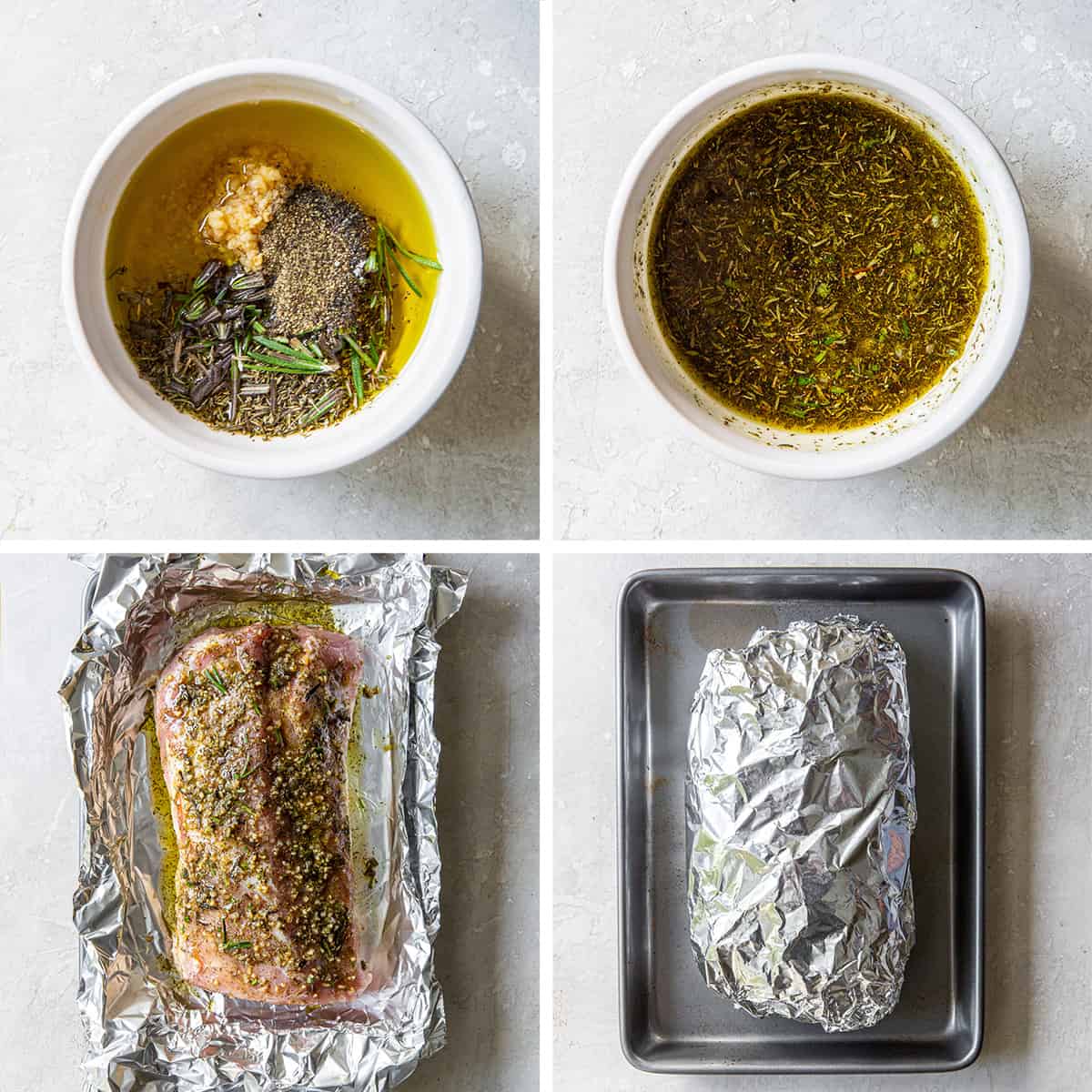 Add the olive oil, garlic, rosemary, thyme, salt and pepper to a small bowl.
Combine it well.
Place the pork loin on a sheet of aluminum foil that is large enough to enclose it. Pierce the pork with a sharp knife in 5 or 6 places. Smear the garlic-herb mixture over all sides of the roast.
Enclose it in the foil and transfer it to the refrigerator to marinate for 2 to 24 hours. When you're ready to cook the pork, allow it to rest on the counter, wrapped in foil, for 45 minutes to 1 hour to take the chill off before roasting.
I've made this recipe multiple times, both with and without the marinating time. I recommend allowing the pork loin to marinate for at least 2 hours or overnight for the best flavor and tenderness and to get some of the work done in advance. However, if you are short on time, the roast can be seared and roasted immediately after applying the garlic-herb paste.
Sear and Roast the Pork Loin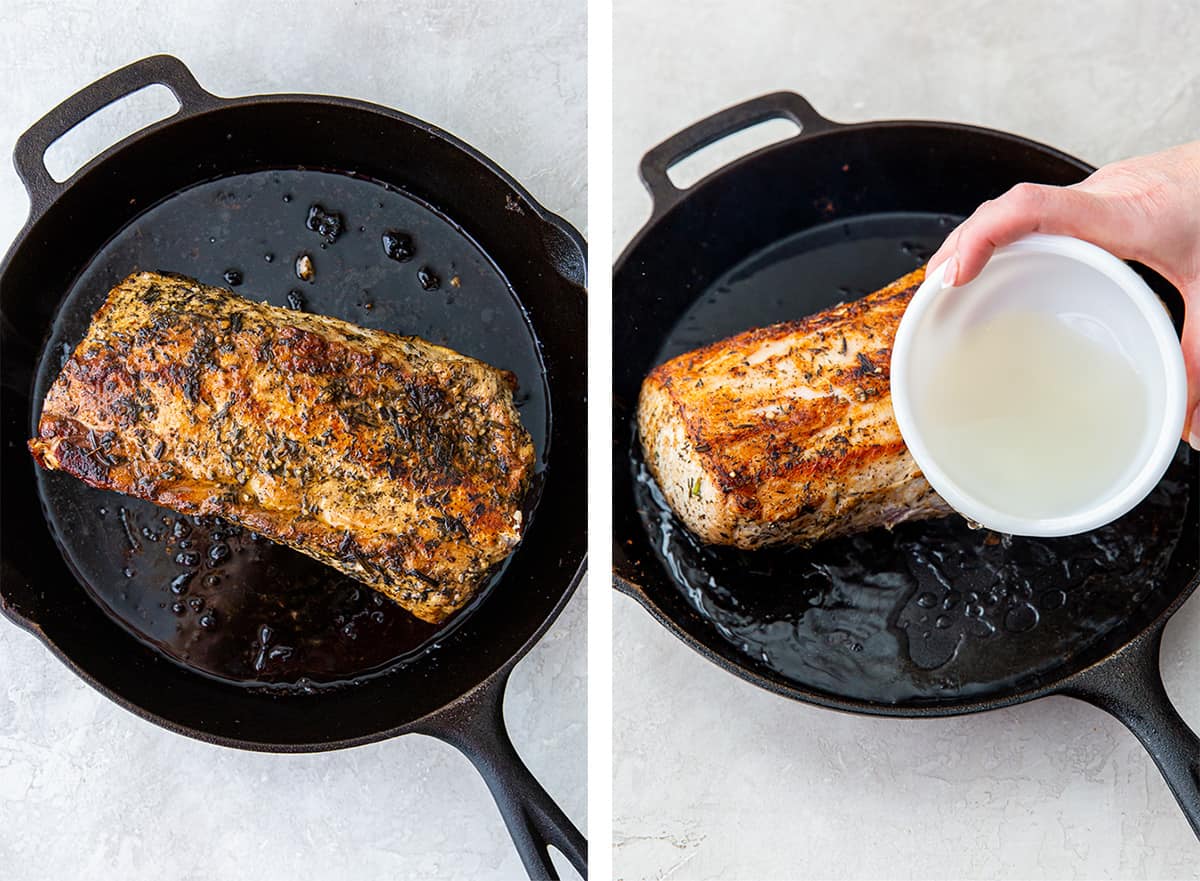 Sear the roast in olive oil in a braiser or cast iron skillet over high heat. Remove it from the heat.
Pour the wine into the skillet around the roast and cover it with the lid (if your skillet doesn't have a lid that will fit, use aluminum foil). Roast in the oven at 375 degrees F for 45 minutes, then remove the cover and roast for another 20 to 30 minutes or until the internal temperature of the pork is at least 145 degrees F and no more than 155 degrees F.
Remove the skillet from the oven and transfer the pork to a cutting board and tent it with a sheet of foil. While the pork is resting, make the gravy.
Make the Gravy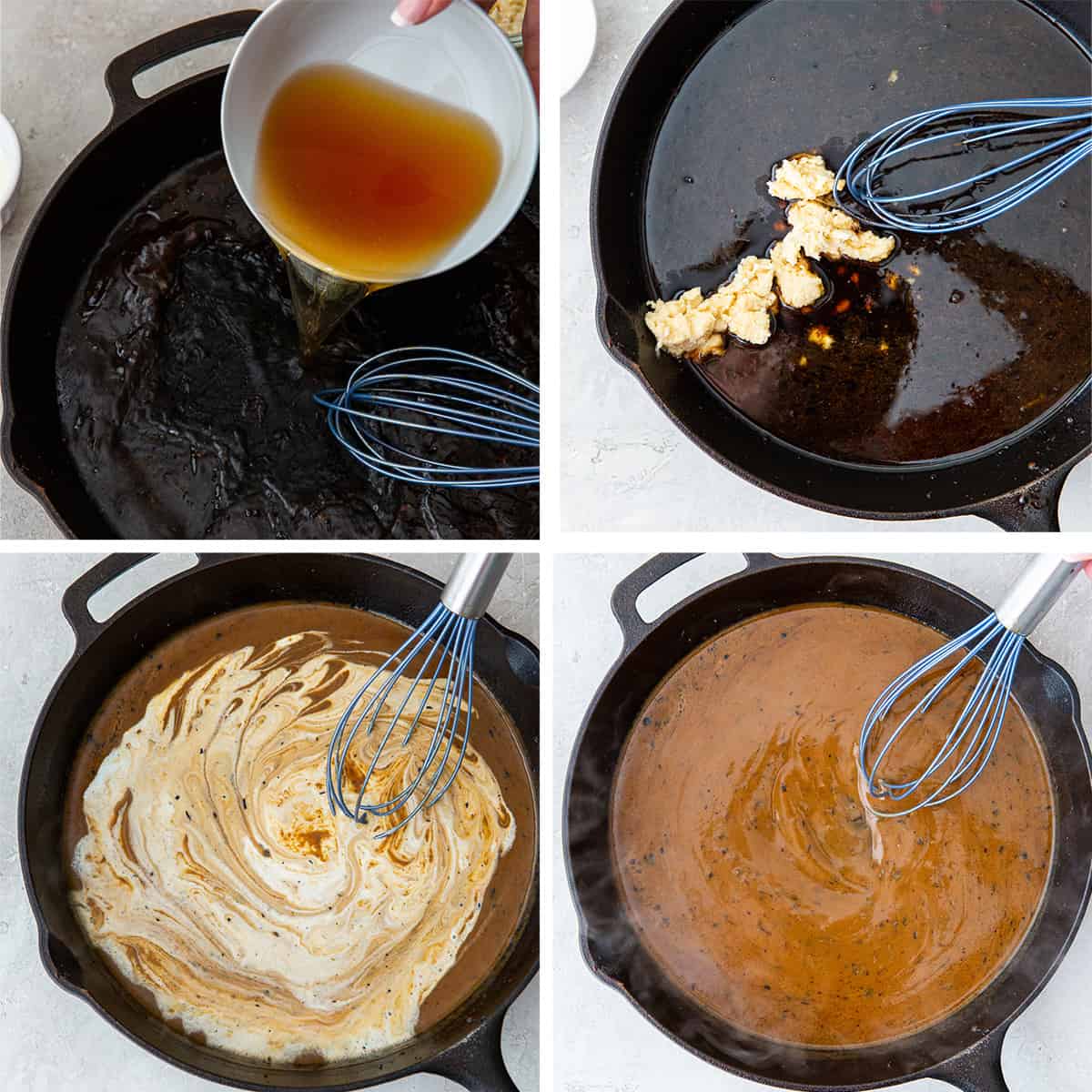 Before starting, combine the softened butter and flour in a small bowl until it forms a smooth paste.
Place the skillet with the pan drippings and accumulated juices over medium heat and add the broth. Whisk, scraping up any browned bits from the bottom.
Add the butter and flour mixture. Whisk vigorously until the butter mixture is completely melted into the sauce.
Bring the mixture to a low boil, then reduce heat to low and add the heavy cream.
Simmer for 3 to 4 minutes, or until thickened, whisking occasionally. Taste and season to taste with salt and freshly ground pepper, only if needed (there is so much flavor in this gravy you might not need to add any additional seasoning).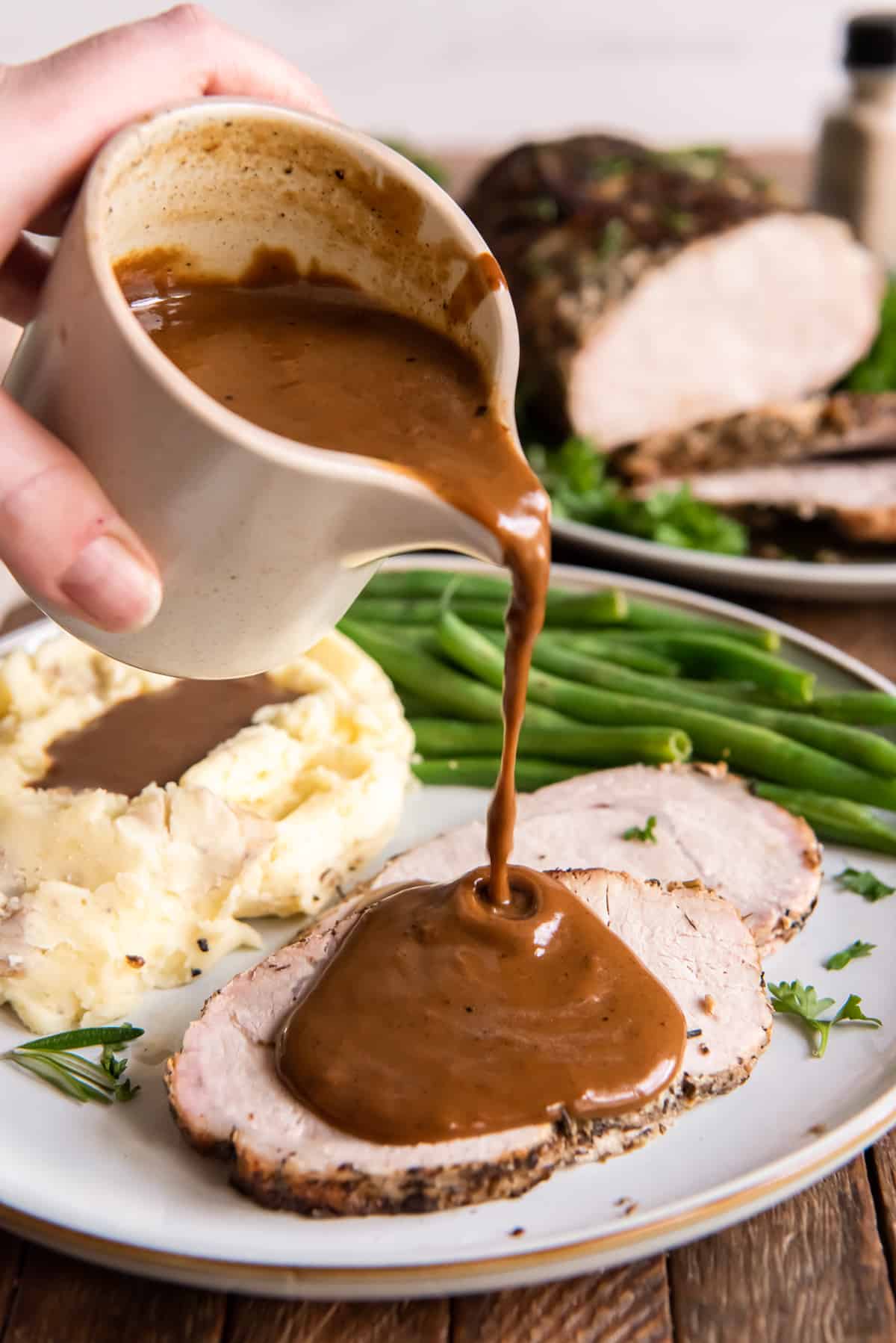 FAQ and Valerie's Tips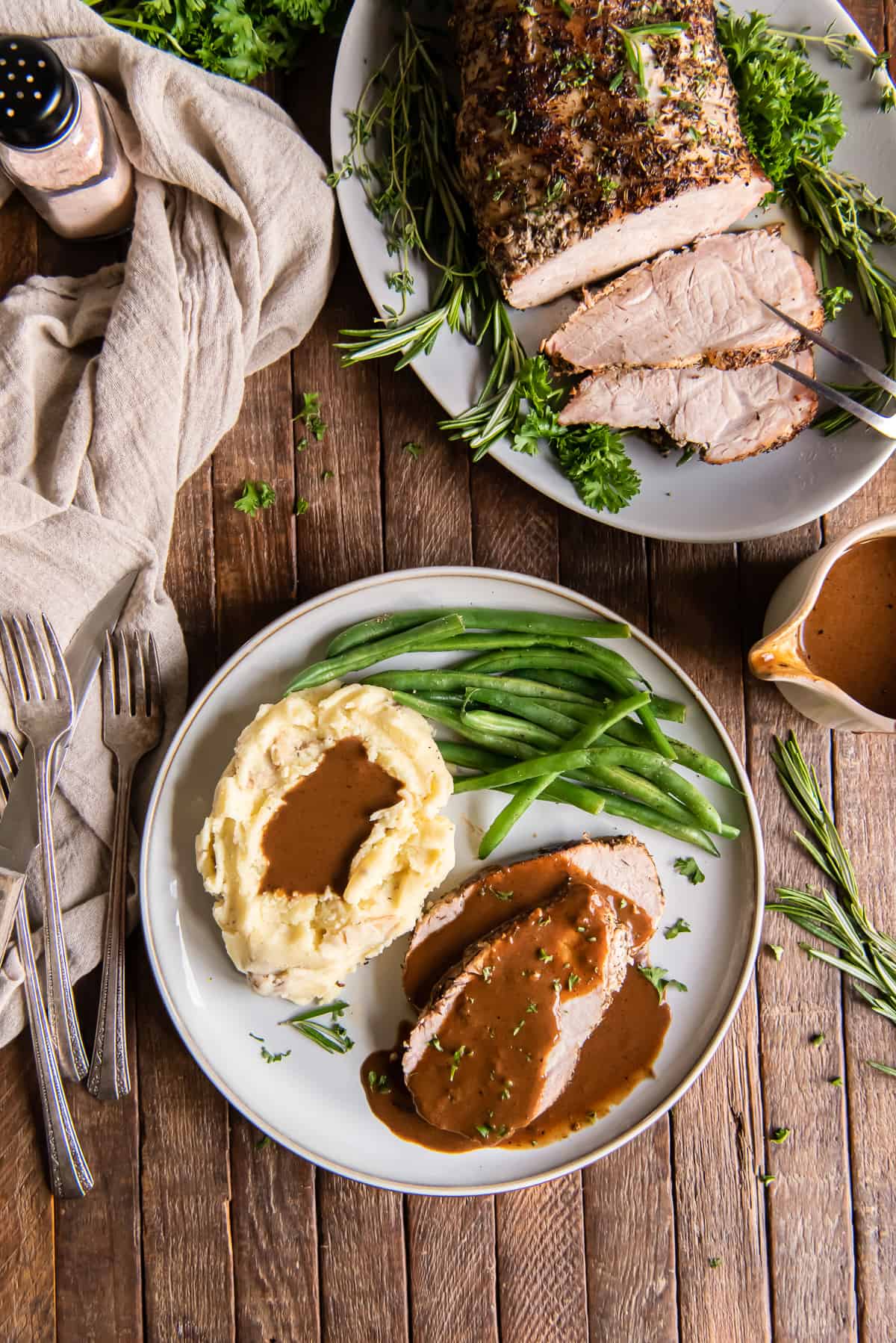 Storage Tips
Transfer leftover cooked pork loin to an airtight container within 2 hours and refrigerate for up to 3 to 4 days. Refrigerate leftover gravy in a separate container. Gravy will thicken when refrigerated so when reheating it, just thin to the desired consistency with a little water or additional broth.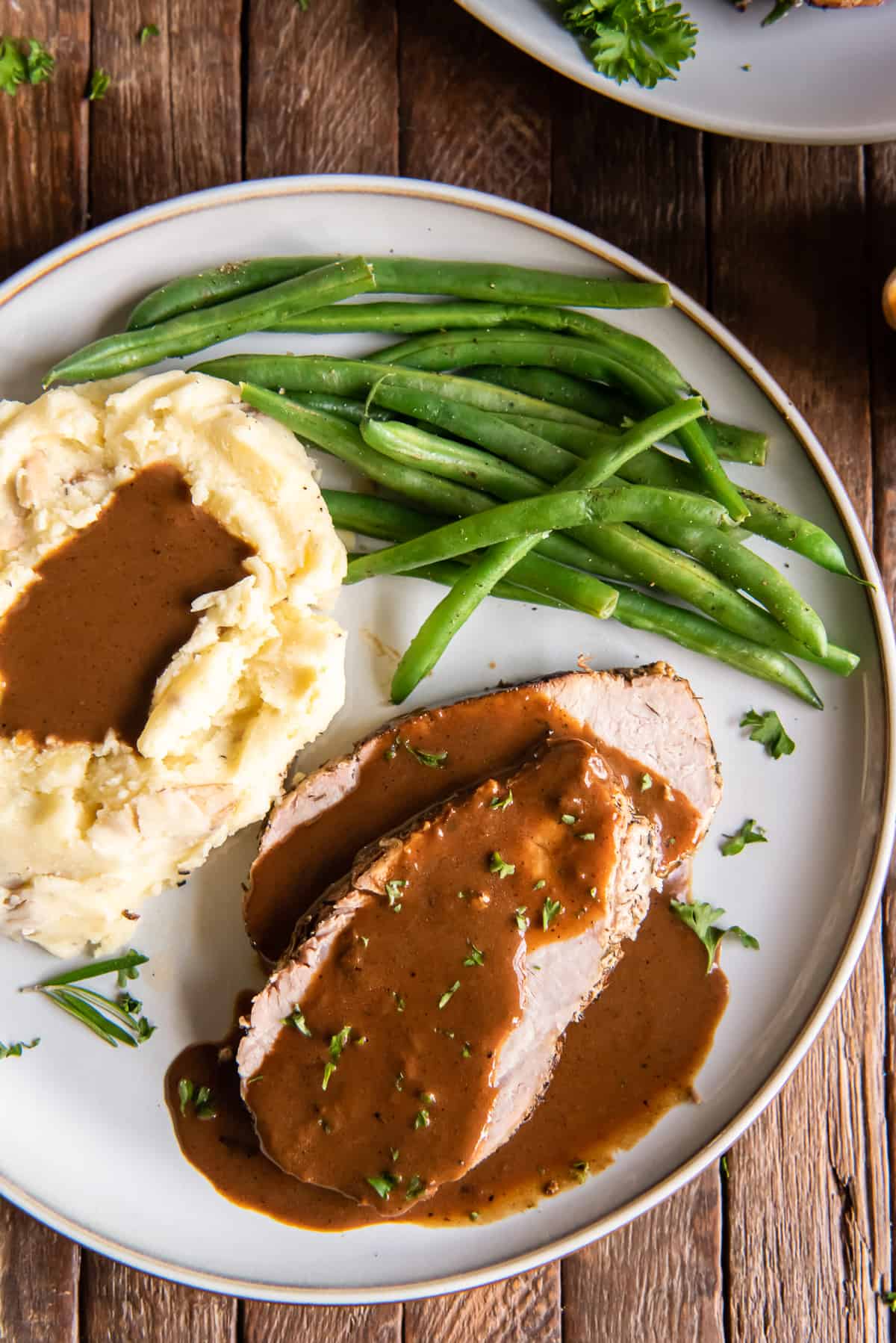 Serving Suggestions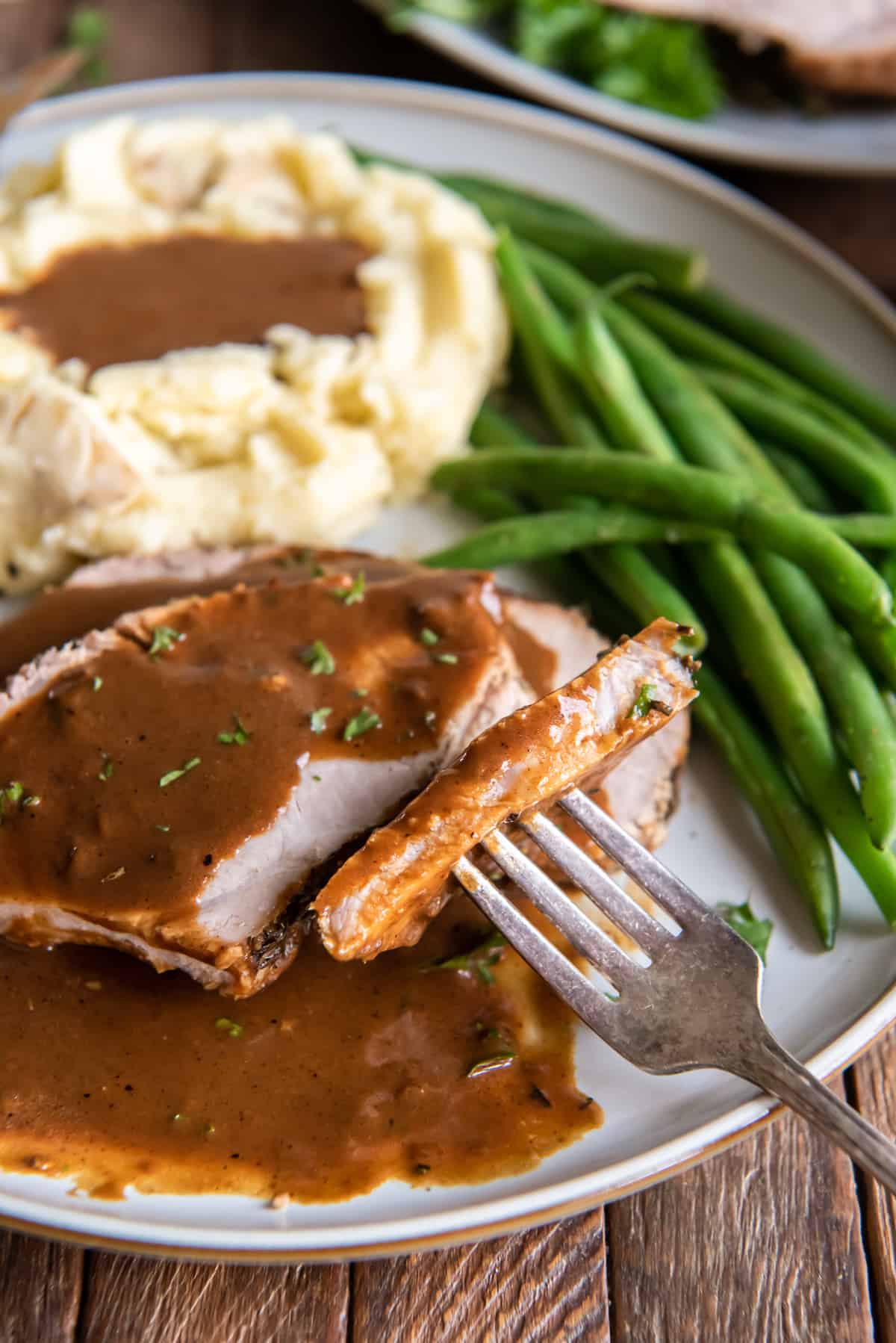 More Special Main Dish Recipes You'll Love