For lots of folks, Memorial Day weekend kicks off cookout season and I, for one, could not be more ready. It's time to take the cover off the BBQ and fire that baby up!
This is a busy, event filled weekend in our neck of the woods. We have a college graduation, a post-grad ceremony celebration at the house, and our youngest is heading home from his college in Santa Barbara to see his brother graduate and spend the long weekend with the fam. I did my Costco haul today and my kitchen is fully stocked and ready for action.
Today is my prep day and I think I've got this thing under control. I think? Oh well…it'll all work out.
Over the course of the past (nearly) 4 years, I've shared many of my tried and true, summer BBQ recipes with you. I've pulled together this collection of my cookout favorites to help you get ready as we head into grilling season.
Just click on the image or the link below to go straight to each recipe.
Let's start with the main attraction. The meat!
I've marinated more sirloin steaks than I can count in this delicious Grilled Steak Marinade. Sirloin is a great cut for the grill. It's a good value in comparison to other cuts and it grills up tender and tasty. Give this marinade a try!
This 6 ingredient Whiskey Balsamic Steak marinade packs a great flavor punch from booze and balsamic. Incredible.
If you want to take a more straight forward approach with your beef it's always a good idea to add a fresh salsa to liven things up a little. This Simply Grilled Steak with Grilled Corn and Black Bean Salsa is the bomb.com.
This recipe is from my brother and it is unbelievable. His grilling method is the best I've found for this cut and results in incredibly tender ribs with a sweet, tangy glaze. Jim's Country Style Ribs are insanely good!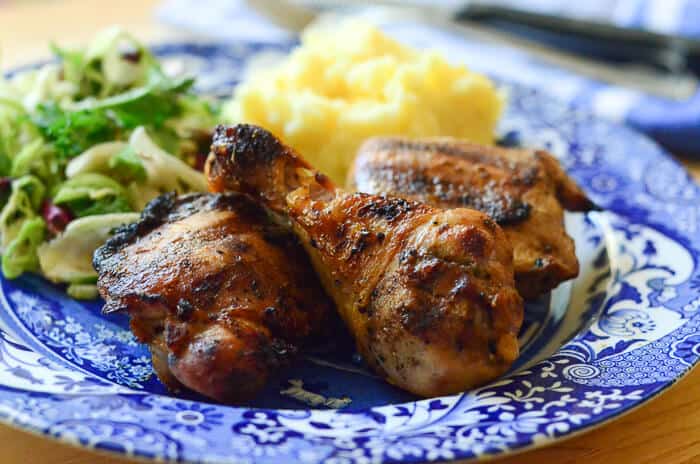 True to it's name, this Pretty Chicken Marinade adds great color to your grilled chicken. It's also incredibly flavorful. Hands down my favorite chicken marinade.
Olive oil, plenty of fresh herbs, garlic, lemon juice, and fresh ground black pepper make up the marinade for this Grilled Greek Chicken. The recipe also includes a fresh, homemade, healthier tzatziki dipping sauce. This is my idea of perfection.
A favorite of my boys – Grilled Chicken Satay with Peanut Dipping Sauce. The flavor is totally addictive.
What shall we serve along side these delicious choices? Here are a few ideas for you.
Ryan's Favorite Beans. This recipe was named after my first born, Boy #1 – the big man, the head honcho – and they truly are his favorite. Beefy, substantial, deliciousness. Try 'em!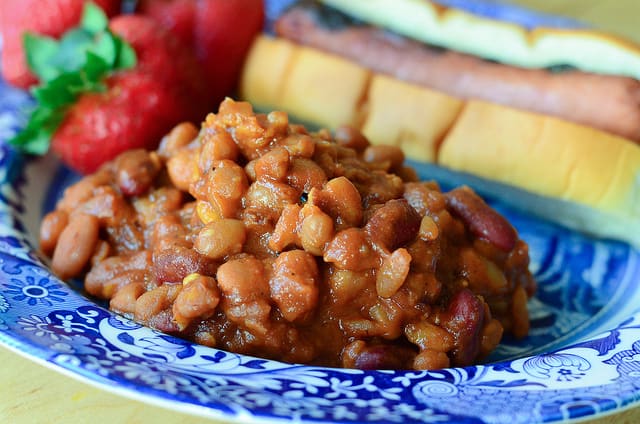 Give canned beans big flavor with some great add-ins. These Spicy Baked Beans are easy to make and full of big flavor.
Here is my step-by-step photo tutorial to guide you through the process of making homemade baked beans. They take some time but there's nothing like Baked Beans from Scratch.
Strawberry Spinach Salad with Honey Balsamic Vinaigrette is as pretty as it is tasty.
Feeding a group? You can't go wrong with this Classic Layered Salad. It can be made ahead and the clever layering method keeps everything crisp and perfect for serving when you're ready for it.
Add some crisp veggies to the mix with this Broccoli Salad. A light, tangy dressing, some sweet dried cranberries, slivered almonds, and crumbled bacon. This works.
Crispy, crunchy goodness. A package of ramen noodles does great things to this Ramen Cabbage Salad. One of my favorite easy summer sides.
Pizza Pasta Salad. Pizza goodness in pasta salad form. The kiddos will love this one.
Chicken Caesar Pasta Salad. Pasta salad meets green salad – and they really, really like each other.
Sun-Dried Tomato Pasta Salad. A breeze to put together and I love all the vibrant color.
I'm feeling incredibly blessed to be spending this holiday weekend with the ones I love the most in this world and I hope you have the great fortune to do the same.
I hope I've given you an idea or two that you can add to your menu. Whether you're hosting a gathering, heading out of town, or just taking it easy, ENJOY!