With the help of some fabulous food bloggers, I've assembled this collection of simple recipes for college students that all have some very important things in common. They involve simple ingredients, no fancy kitchen tools or appliances are required, and each one is quick and easy enough to prepare in a small dorm or off-campus housing kitchen.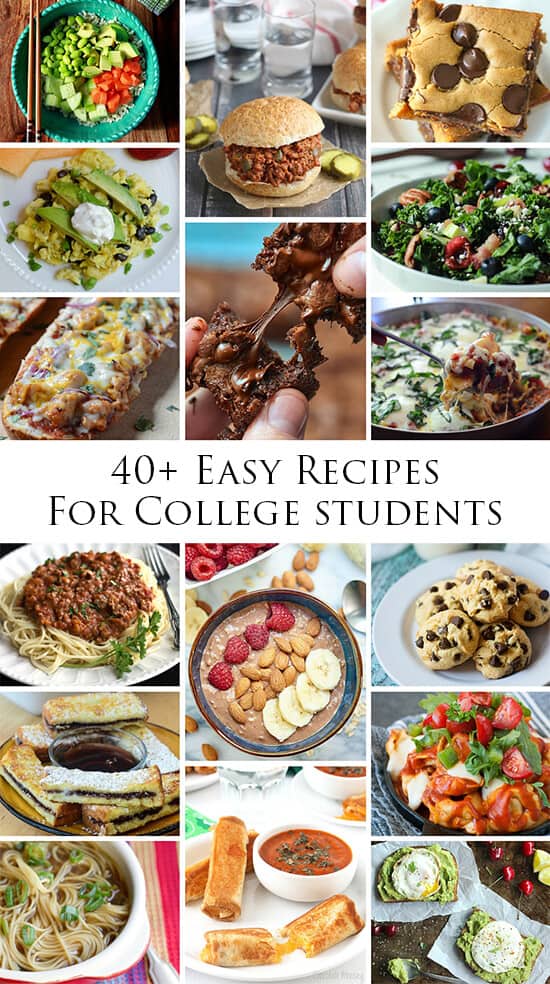 If you are a college student looking for a little cooking inspiration, you're in the right place! If you are the parent of a college student, give your son or daughter a little nudge by sharing this collection with them.
Cooking in college is the beginning of what we parents hope will be a life-long interest in preparing healthy food for themselves and one day, for their own families.
Within the first few months of living away from home, most college kids find that splitting their meals between the campus dining halls and local fast food joints is not going to cut it for the next four (or more) years. This will be very apparent on their visits home.
"What's for dinner, Mom" takes on a whole new meaning for them once they've had to fend for themselves for a few months.
I guarantee they will return home for visits with a new level of appreciation for your efforts in the kitchen and may start taking notice so they can attempt to duplicate some of those meals on their own.
Even if your kids have shown zero interest in cooking while living in the luxury and comfort of your home, the college experience will most likely bring them into the kitchen.
BREAKFAST
It's easy for college kids to get in the bad habit of skipping breakfast as they rush off to class each day. Here are some healthy, hearty options to keep them on track.
1. Chocolate Peanut Butter Jelly Overnight Oats – Show Me the Yummy
2. Skinny Fried Egg and Avocado Toast – Simple Green Moms
3. Breakfast Nachos – The Lean Green Bean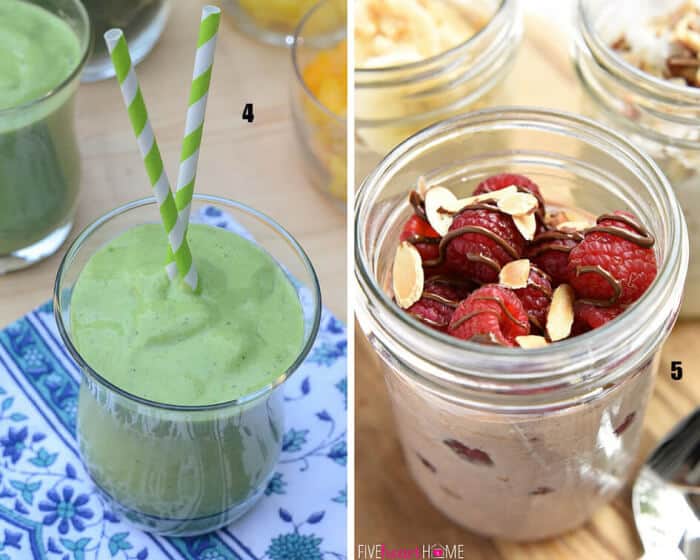 4. Tropical Green Smoothie – Valerie's Kitchen
5. Overnight Oats 3 Ways – PB Banana, Raspberry Nutella, & Coconut Almond – Five Heart Home
6. Healthy Egg Muffin Cups – Show me the Yummy
7. Mexican Scrambled Eggs – Valerie's Kitchen
8. Nutella Stuffed French Toast Sticks – Valerie's Kitchen
MAIN DISHES
This assortment of main dishes includes lots of familiar, comforting flavors and most of these recipes will reheat beautifully.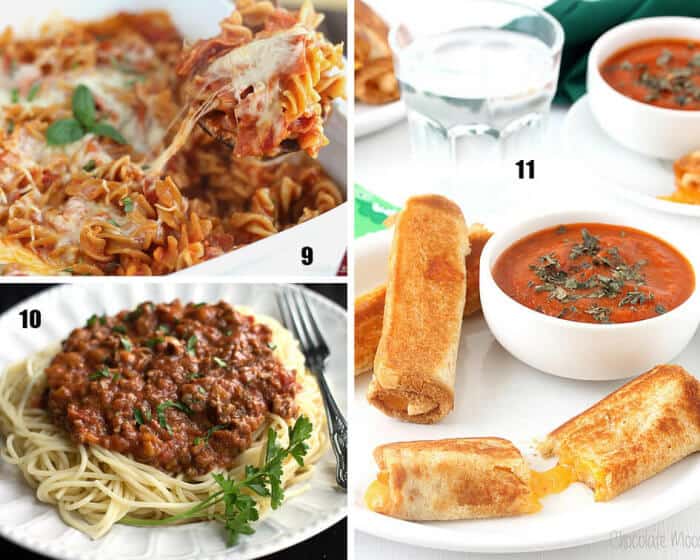 9. Easy, Cheesy 5-Ingredient Pizza Pasta Bake – Two Healthy Kitchens
10. Quick and Easy Spaghetti Bolognese – Erren's Kitchen
11. Grilled Cheese Roll Ups with Tomato Soup Dipping Sauce – Chocolate Moosey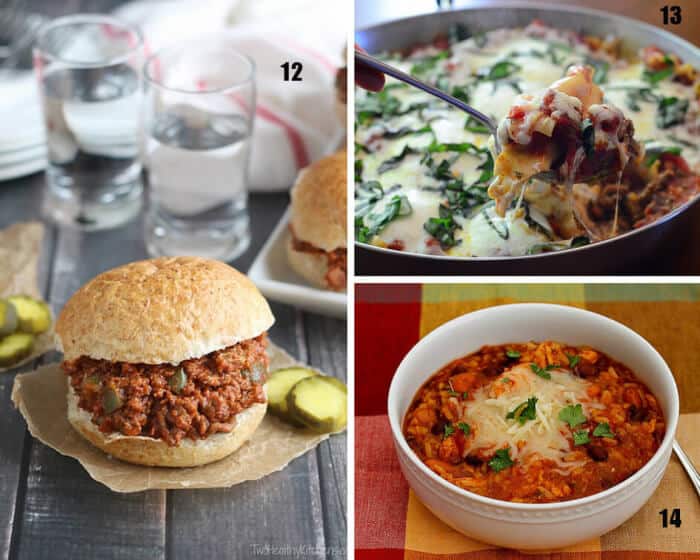 12. Best Ever Sloppy Joes – Two Healthy Kitchens
13. Skillet Lasagna – Valerie's Kitchen
14. Chicken Enchilada Soup – Karen's Kitchen Stories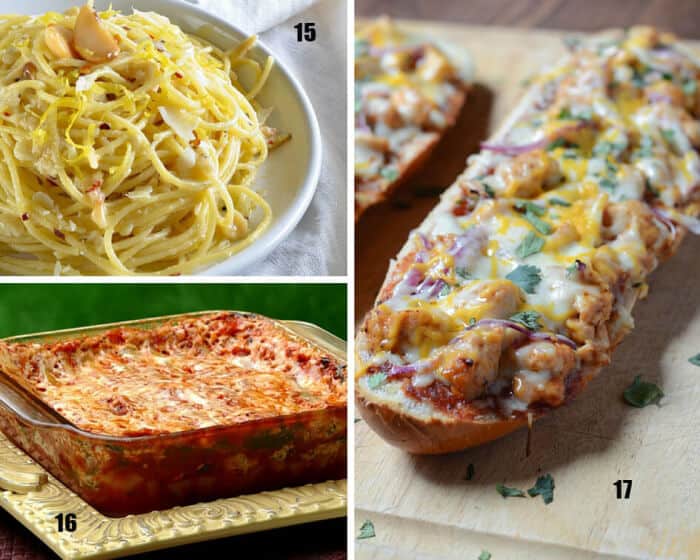 15. Lemon Garlic Pasta – Wonky Wonderful
16. Homemade Microwave Lasagna – Noble Pig
17. BBQ Chicken French Bread Pizza – Valerie's Kitchen
18. Broccoli and Cheddar Four-Cheese Pizza Flatbread – Peas and Crayons
19. English Muffin Pizzas – Baked by Rachel
20. Taco Salad – Valerie's Kitchen
21. Quick & Easy BBQ Cups – Yummy Healthy Easy
22. Quinoa Tabbouleh Salad – Joyful Healthy Eats
23. Quick & Easy Chinese Noodle Soup – Erren's Kitchen
24. Chicken Salad Sliders – The Lemon Bowl
25. Mexican Tortellini Casserole for Two – Peas and Crayons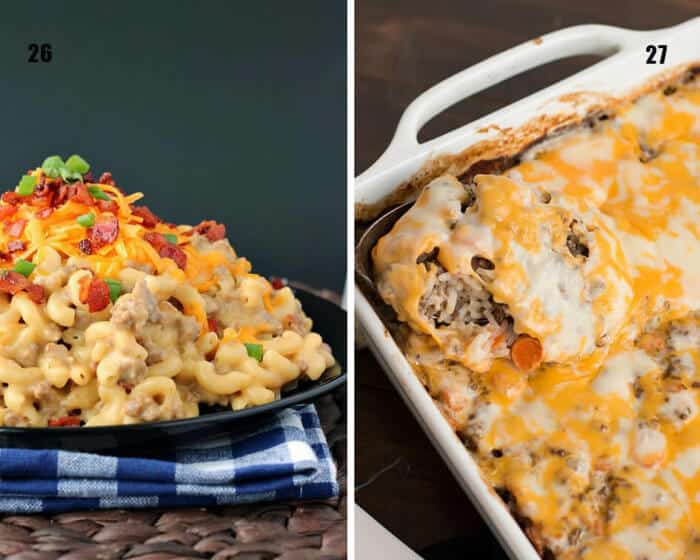 26. One-Pot Bacon Cheeseburger Mac & Cheese – Julie's Eats and Treats
27. Cheesy Ground Beef and Rice Casserole – Oh Sweet Basil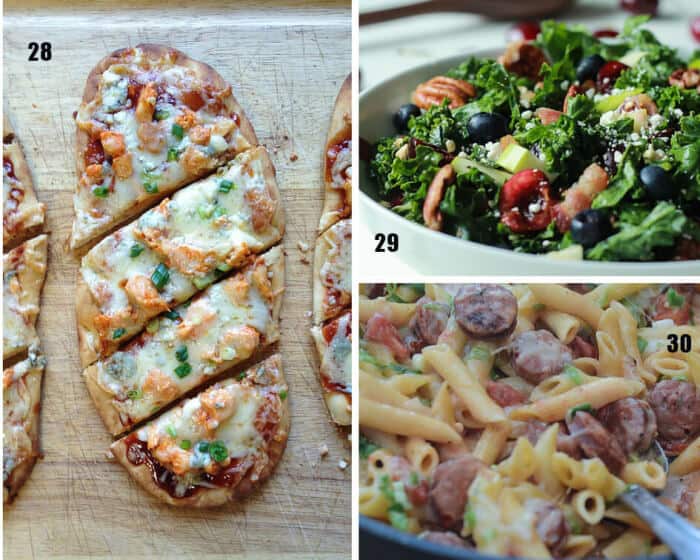 28. Buffalo Chicken Flatbread Pizza – Valerie's Kitchen
29. Cherry Summer Kale Salad with Balsamic Vinaigrette – Joyful Healthy Eats
30. Skillet Sausage Pasta – Valerie's Kitchen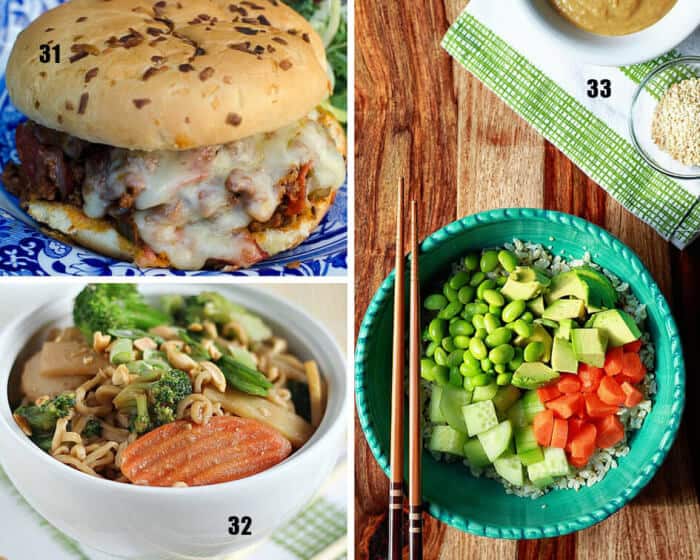 31. Pizza Joes – Valerie's Kitchen
32. Chicken Thai Noodle Bowls – Yummy Healthy Easy
33. Veggie Roll Rice Bowl with Creamy Sesame-Wasabi Dressing – Kitchen Treaty
DESSERTS
A selection of delectable but simple recipes to satisfy your sweet tooth.
34. One Bowl Brownies – Show me the Yummy
35. Cookie Bars – Lil' Luna
36. Vanilla Sprinkles Cookies – Karen's Kitchen Stories
37. Chewy Peanut Butter Chocolate Chip Cookies – Valerie's Kitchen
38. Party in Your Mouth Rocky Road Cookies – Fox Hollow Cottage
39. Crispy Peanut Butter Clusters – Valerie's Kitchen
40. Single Serving Deep Dish Chocolate Chip Cookie – Chocolate Moosey
41. Chocolate Chip Cake Mix Cookies – Dear Crissy